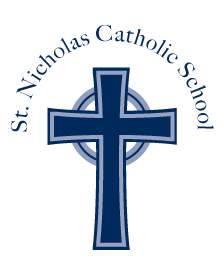 St. Nicholas Catholic School
Inspiring Student Excellence; Rooted in Catholic Tradition
Application Process & Important Deadlines
Deadlines & Required Information
St. Nicholas School requires the following information as part of your application:
Application fee of $100.00 per student (non-refundable, payable by check or cash).

Birth Certificate

Immunization Records (after acceptance)

Student photograph

Baptism Certificate if applicable
​
TK/Kindergarten Readiness Screening
​
TK applicants must be four years old by September 1.

Kindergarten applicants must be five years old by September 1.

Virtual screening sessions for students applying for TK/Kindergarten will be scheduled after we have received a completed application, appropriate fees, and all required forms.

The virtual screening is conducted by our TK/Kindergarten teachers and is enjoyable for our new students.
​
Acceptance Letters and Enrollment
​
Applications accepted year round.

After receiving your acceptance letter, a non-refundable deposit towards your next year tuition is due, together with the letter of intent to Enroll.

Students are not officially enrolled until the enrollment deposit is submitted, paid and received and the tuition contract is finalized.

If applicants exceed spaces available, children may be placed on a waitlist with admittance subject to space availability.

Priority is given to students in the following order: siblings of current students; families who are members of St. Nicholas/St. William Parish; families who are members of other Catholic parishes; all others.