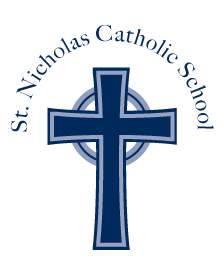 St. Nicholas Catholic School
Inspiring Student Excellence; Rooted in Catholic Tradition
Apply to St. Nicholas Today!
We are thrilled that you are applying to St. Nicholas School! If you are submitting applications for multiple children, please note that you will need to submit an application for each one separately.
Once you have submitted your application, St. Nicholas School will contact you to confirm your application and schedule a TK/Kindergarten Readiness Screening or an Admissions Interview and Assessment.
Step 1. Virtually Visit St.

Nicholas School

Prospective families are welcome to watch our virtual school tour on our Home Page.

​

​
Step 2. Apply to St. Nicholas School
Click on the application link below to begin the process.
You will be directed to a site entitled Diocese of San Jose.

Once on that page, you will then need to click the button "Create Account." From there you will create a family account (see sample image below).

Once your family account is complete, you will be able to add your student(s), and develop each student's individual application profile (see sample image below).
Step 3. Submit Required Documents to St. Nicholas School
​​
Recent color photo

Birth Certificate

Sacramental records (Baptismal certificate, etc.) if applicable

Recommendation from preschool teacher or grade school teacher

Most recent report card/progress report (Grades 1-8)

For 1st-8th grade, please fill out an Information Release Form

Child participates in a TK/Kinder Readiness Screening or a virtual Admissions Interview and Assessment (1st-8th grade)

Health record signed by physician/health examiner. (May be submitted prior to 1st day of school)
Step 4. Admissions Screening & Assessment
All prospective students are screened for academic and social readiness. Our screening process is designed to ensure that your child is ready to succeed at St. Nicholas School.
​
Step 5. Admissions Acceptance
After the results of the screening assessment are evaluated, you will receive a letter via email informing you if your child has been accepted. Based on the number of applicants and available seats, some applicants may be wait-listed. The Admissions Director can explain the screening process and answer any questions you may have. Please contact Stacy French at stacyfrench@stnicholaslah.com for more information.
Enrollment
Upon Acceptance submit your non-refundable Registration Fee.
New Family Orientation
St. Nicholas holds a New Family Orientation every May.