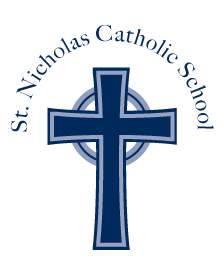 St. Nicholas Catholic School
Inspiring Student Excellence; Rooted in Catholic Tradition
1st Grade at St. Nicholas School
Impactful Religious Studies & Experience:
Be a kind and caring individual. Students learn that God is always there for us at all times. For those that are not Catholic, Religion lessons in 1st grade focus on the importance of being a wholehearted, kind individual to all of those around us. Students learn the story of Jesus being born and create their own Nativity Book.

SEL Targeted Skills:
Students learn strategies for regulating emotions by using breathing techniques. We focus on how to identify and address one's emotions and feelings and ways in which we can support our classmates when they are having a strong feeling. In 1st grade, students learn the importance of owning up to one's actions and mistakes and to the power of an authentic apology.
Engaging Experiences:
Students become authors of different types of books and get to share their books with students in different classes. Working in partnerships to develop their reading and writing skills.
​
Learn about our Elementary School Curriculum!
​
​
Below are some meaningful 1st grade experiences we'd like to share: