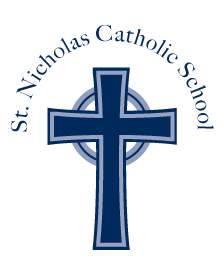 St. Nicholas Catholic School
Inspiring Student Excellence; Rooted in Catholic Tradition
OPEN HOUSE - TUESDAY, OCTOBER 24TH 9 AM - 11:30 AM - RSVP HERE
Application Process & Deadlines
Deadlines & Required Information
St. Nicholas School requires the following information as part of your application:
Application fee of $60.00 per student (non-refundable, payable by check or cash).

Birth Certificate

Baptism Certificate

Immunization Records (after acceptance)

Student photograph

The office manager will contact parents via email to schedule a "Shadow Day" for grades 1-8, where your child will come to school and spend the day in the classroom.
Acceptance Letters and Enrollment

Acceptance letters mailed beginning March 14, 2017.

Upon acceptance, please confirm kindergarten enrollment with registration by February 26, 2016

Upon acceptance, a $400.00 non-refundable registration fee and a $275 non-refundable technology fee are due by Thursday, March 24, 2016.

Students are not officially enrolled until registration and technology fees are submitted.

If applicants exceeds spaces available, children may be placed on a waiting list with admittance subject to space availability.