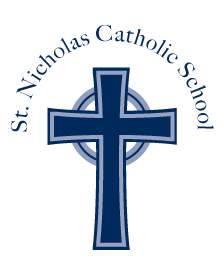 St. Nicholas Catholic School
Inspiring Student Excellence; Rooted in Catholic Tradition
WHY CHOOSE ST. NICHOLAS SCHOOL
When considering an educational choice, families must evaluate the best learning environment and experience for their child who has the world before them. Our goal is to provide a place where families and students feel connected, engaged and discover that they are lifelong learners. Our joy is when we see students, at any age level , confident in their abilities, expressing their opinions and faithful that they can make a change in the world. Our educators focus on elevating their social emotional intelligence as much as their intellectual ability.
I encourage our prospective families to spend time speaking to current families, explore our website or attend our virtual open house, to see what a Catholic educational experience can offer your child. We bring all walks of faith together as we partner with parents to develop and guide their moral decision making. Proven results are based on a commitment to use data driven evidence to know how each child is growing. We challenge students to rise to their potential through engagement and sparking the curiosity in them to want to know more. Finally, our mission is that our students know they are capable and purpose driven individuals sharing their God given gifts to others.
During this historical year, we have never been more proud to offer our students the nurturing and engaging experience in-person or during distance learning. One community at all times, and always faithful to our mission.
UNSURPASSED CAMPUS AND FACULTY
63 percent of our teaching staff have Master's Degrees and all are pursuing continuing education
Alumni and Alumni Parents make up part of our teaching staff
Diocesan Leaders in EnglishLanguage Arts
USING DATA TO DRIVE EXCELLENCE
St. Nicholas School carefully designs our TK-8th grade academic curricula to ensure students, at each grade level, are well prepared for success in high school. School administration works in concert with high school curricula directors to ensure students meet or exceed College Preparatory requirements during high school placement exams. We are proud to offer individualized, accelerated paths in mathematics in junior high; immersive literature and composition programs from K to 8th and strong science, social sciences, religion for all grades. Learn more about our academic program now >>
​
Developing Conscientious Purpose Driven Students
Picture of student led mass (prior covid)
Picture of service
MISSION DRIVEN:
ROOTED IN CATHOLIC TRADITION AND VALUES;
CENTERED AROUND THE WHOLE CHILD
St. Nicholas School believes in developing conscientious, purpose-driven students. Guided by faith we support development through our Social Emotional Learning, a hallmark of St. Nicholas' philosophy for many years!
Guided by Faith

Committed to Community Service

Grounded in Responsive Classroom Philosophy

Engaging Academics

Positive Community

Effective Management

Developmentally Responsive Teaching
Guided by Faith
2nd Grade celebrates First Communion with the whole school
Community Service
Making 10K Meals during Compassion Week
Developmentally Responsive Teaching
Engaging students at their level makes learning fun
Guided by Faith
2nd Grade celebrates First Communion with the whole school
St. Nicholas School offers a myriad of exracurricular programs. We're particularly proud of the following programs:
Our outstanding theater program in collaboration with the Peninsula Youth Theatre (PYT)

Our immersive Mandarin program

Our after-school athletic program for students grades 4 and up!