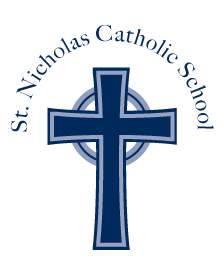 St. Nicholas Catholic School
Inspiring Student Excellence; Rooted in Catholic Tradition
OPEN HOUSE - TUESDAY, OCTOBER 24TH 9 AM - 11:30 AM - RSVP HERE
Kindergarten Admissions
St. Nicholas kindergarten is a full-day program, held 8:00 am to 2:00 pm daily. A free hour of extended care from 2:00-3:00 pm is included in your tuition, and many of our kinders enjoy this as a built-in "playdate."
We offer a varied and active schedule to ensure our youngest students stay engaged while building their reading, writing and learning skills. We offer an innovative curriculum, including a guided reading program, tailored for children who are not yet reading to children who are reading at the second grade level; basic computing and coding skills; and empathy learning to help children in understanding the needs and feelings of others.

To apply to the Kindergarten program, please complete our online application. We will confirm your submission immediately via e-mail. Fees (cash or check) should be submitted to St. Nicholas School, 12816 El Monte Road, Los Altos Hills, CA 94022.
If you would prefer to apply or submit the required forms in person, please contact our office through our online form or call us at 650-941-4056.
Deadlines & Required Information: Now Accepting Applications!
St. Nicholas School requires the following information as part of your application:
Application fee of $60.00 per student (non-refundable, payable by check or cash).

Birth Certificate

Baptism Certificate

Immunization Records (after acceptance)

Student photograph

Schedule a Kindergarten Readiness Observation
Applications received after the deadline will be considered on a space available basis.
Kindergarten Readiness Observation

Applicants must be five years old by September 1, 2017.

Screening sessions for students applying for kindergarten will be scheduled after we have received a completed application, appropriate fees, and all required forms.

The screening is conducted with our kindergarten teacher and is enjoyable for our new students. We will be evaluating writing, reading, listening and social skills in a supportive environment.
Acceptance Letters and Enrollment

Acceptance letters are mailed starting February 10, 2016.

Upon acceptance, please confirm kindergarten enrollment with registration by February 26, 2016.

Applications may be accepted after February on a space-available or waitlist basis.

Upon acceptance, a $400.00 non-refundable registration fee and a $275 non-refundable technology fee are due by Thursday, March 24, 2016.

Students are not officially enrolled until registration and technology fees are submitted.

If applicants exceed spaces available, children may be placed on a waiting list with admittance subject to space availability.

Priority is given to students in the following order: siblings of current students; families who are members of St. Nicholas Parish; families who are members of other Catholic parishes; all others.