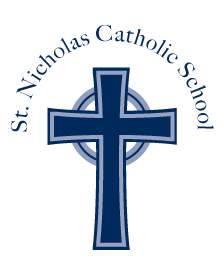 St. Nicholas Catholic School
Inspiring Student Excellence; Rooted in Catholic Tradition
Transitional Kindergarten
NEEDS TO BE UPDATED FOR ADMISSIONS - THERE IS A TK/KINDER ACADEMICS PAGE
St. Nicholas Catholic School is proud to offer a Transitional Kindergarten (TK)! Unlike preschool or pre-kindergarten, which do not offer a prescribed curriculum and fall under California state day care licensing, our TK is the first step in a two part Kindergarten program established by the State of California's Kindergarten Readiness.
Transitional kindergarten serves as a bridge between preschool and kindergarten, functioning to provide students with time to develop fundamental skills needed for success in school in an age - and developmentally-appropriate setting.
Requirements:
Students must be 4 years old by September 1st, 2016

Students must have previous preschool experience
TK Facts:
TK follows a prescribed curriculum to prepare students to enter kindergarten

Students are fully incorporated into the St. Nicholas School community where they will utilize school facilities, the hot lunch program, school calendar, schedule, etc. and will participate in school functions, including Assembly, Mass, Christmas Concert, Pep Rallies and many other new experiences

Students will wear a uniform

Students are taught by one credentialed teacher and an Instructional Assistant with Early Childhood Education experience
TK Core Curriculum
TK prepares students with a foundation in math, reading and writing readiness, language and literacy and Religion. Science, Music, P.E. and Art are also part of the curriculum. We
Use a variety of different methodologies to provide a comprehensive program, which promotes intellectual, social, spiritual and emotional development

Montessori method based on self-directed activites, hands on learning & collaborative play

Differentiation through small group instruction

Whole group instruction

Methods to develop gross and fine motor skills.
Technology is incorporated into the instructional day using iPads in the classroom or visiting the Technology Lab.