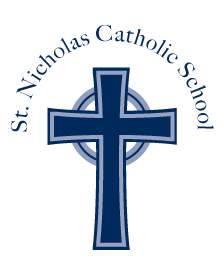 St. Nicholas Catholic School
Inspiring Student Excellence; Rooted in Catholic Tradition
Kindergarten at St. Nicholas School
St. Nicholas School's Kindergarten is full of both blossoming academics and important social growth! Although some of the smallest Celtics, the kindergartners are mighty! They learn, grow, love and play along with the rest of the school blessed with a full day (8:00-3:00) program led by a full-time teacher supported by 2 fulltime instructional assistants. St. Nicholas values highly supported, direct instruction – for the whole class and in small group formats for all core subjects promoting important intellectual, social, spiritual and emotional development. It's our mission to teach Catholic values while fostering a love of lifelong learning for the whole child. To reach this goal we seek to identify each child's unique style of learning - both in the methods and the timelines for growth. No one child is exactly like the other! We closely monitor a student's academic growth through adaptive standardized testing data as well as ongoing informal forms of assessment. Educators are able to gain immediate feedback on students' progress and adapt instructional plans, meeting the need of their students and ensuring they are best prepared to move into first grade.
​
Impactful Religious Studies & Experience:
Our classroom theme is the Golden Rule. The kids take it to heart and talk about it all year long. Kindergarten is responsible for the
SEL Targeted Skills:
Mindfulness and other calm down strategies. Growth mindset and the "power of yet". In Kindergarten we don't say we can't do something, we say we can't do it yet. We talk about taking accountability for our own actions and learn words such as perseverance and resilience. We always try our best and learn that mistakes are proof that we are trying. We also try our best to be independent and try things on our own before asking a teacher.
Engaging Experiences:
Star student of the week (this includes multiple fun activities throughout the week centered around whoever is our star student). Caring for our Kindergarten. Interactive writing - everything on the walls is created by students (no store bought posters, they design everything). Themed days of the week (i.e. Team Building Tuesdays where they work together with a partner or group on an activity). Virtual field trips. Imagineerz Superhero Metropolis.
​
Learn about our TK-Kindergarten Curriculum!
​
​
Below are some meaningful Kindergarten experiences we'd like to share: