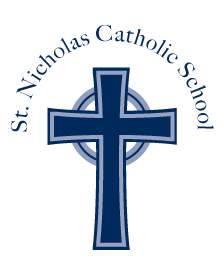 St. Nicholas Catholic School
Inspiring Student Excellence; Rooted in Catholic Tradition
Transitional Kindergarten at St. Nicholas School
Our Transitional Kindergarten program provides the first year of an optional two-year Kindergarten curriculum giving space and time for our youngest Celtics to grow confidently into their abilities. This first year sets the foundation for learning in a safe and age-appropriate setting, introducing base concepts while giving parents an additional option to help their children enter kindergarten with the maturity and social skills needed for success. Our littlest Celtics join our older students as a fully integrated part of the St. Nicholas community, joining in morning prayer assembly, proudly wearing St. Nicholas uniforms, participating in buddy sessions, attending hot lunch, and playing daily on their specially suited TK-K playground.
Our curriculum is age and developmentally appropriate and aligned with the Kindergarten California Common Core State Standards. A centers-based learning approach is also used for individual, pair and/or small group activities. St. Nicholas recognizes children learn in different ways and sometimes on different timelines. In response, St. Nicholas School closely monitors student's academic growth through adaptive standardized testing data as well as ongoing informal forms of assessment. Educators are able to gain immediate feedback on students' progress and adapt instructional plans, meeting the need of their students and ensuring they are best prepared to move into Kindergarten.
​
Impactful Religious Studies & Experience:
Prayer of the month, morning and closing prayers,Holy Family and activities for liturgical calendar
SEL Targeted Skills:
include: fine motor development, following directions, basic classroom procedures, problem solving and becoming a more independent learner
Engaging Experiences:
Scientist of the Week, Fiction and Non-Fiction Storybook characters and books called "Book Pals" special days to celebrate a theme or a letter, such as H is for Hawaii. Mileage running club for additional physical exercise. We also do virtual field trips and special theme days throughout the year!
​
​
Learn about our TK-Kindergarten Curriculum!
​
​
Below are some meaningful TK experiences we'd like to share: