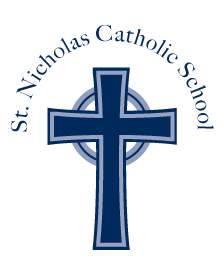 St. Nicholas Catholic School
Inspiring Student Excellence; Rooted in Catholic Tradition
OPEN HOUSE - TUESDAY, OCTOBER 24TH 9 AM - 11:30 AM - RSVP HERE
Give Online
The Celtic
Annual Appeal
Celebrating 70 Years
Donor Levels
​
Gold Leaf - $10,000 or more
will receive a Gold Leaf on the donor tree with choice of message, name or in memory of

Donor Reception​
​
Silver Leaf - $2,500 to $9,999
will receive a Silver Leaf on the donor tree with choice of message, name or in memory of

Donor Reception
Bronze Leaf - $1,500 to $2,499
will receive a Bronze Leaf on the donor tree with choice of message, name or in memory of

Celtic Supporter - Up to $1,499
​
Donors' names will appear in next year's The Celtic, which will acknowledge all donors to St. Nicholas School. Families that give at the Silver and Gold Leaf level will be honored at a Donor Reception in the Spring of 2023.
As a registered 501(c)(3), all gifts made to St. Nicholas School are tax deductible to the extent allowed by law.
​
Give Today!
Click on the button below to choose the program you want to impact most: School Donations, Endowment Fund, Tuition Assistance!