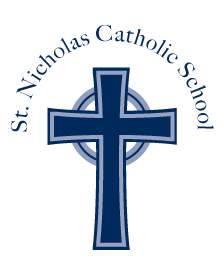 St. Nicholas Catholic School
Inspiring Student Excellence; Rooted in Catholic Tradition
Hot Lunch Program
My Green Lunch provides St. Nicholas School with Hot Lunch four days a week. Serving a lunch that nourishes the body and fuels the minds of children is My Green Lunch's focus. They procure top quality ingredients and create a variety of nutritious foods that students will enjoy. Their mission is to work with schools to deliver customized, higher-quality nutritious lunches to ensure healthier and happier kids.
Meals are "Kid Friendly" and are prepared using the freshest, local,
natural and organic ingredients available. The complete meal includes an entrée, fresh vegetables, fruit and a beverage. Kids love picking out their meals. Monthly programs are available.
​
My Green Lunch encourages our students to discover themselves that fresh foods actually taste better. St. Nicholas School and Taste Nutrition partner to promote healthy eating habits to create in each student a life-long healthy and nutritious diet.
Participation in the Hot Lunch program is optional.
​