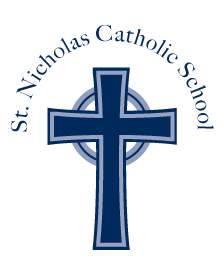 St. Nicholas Catholic School
Inspiring Student Excellence; Rooted in Catholic Tradition
OPEN HOUSE - TUESDAY, OCTOBER 24TH 9 AM - 11:30 AM - RSVP HERE
Mr. K Activity Center
Writing a retirement tribute that can capture Mr. K and what he means to St. Nicholas is a daunting task. When a beloved teacher retires, life pauses for a moment. Mr. K's retirement is impossible to put into words. It is an event for two generations of students that associate him with their youth -- a time when life was vibrant and schedules seemed simpler. He is a no-nonsense teacher who
challenged each and every student and, in the process, taught them the joy of learning, and helped shape their careers and their success.
​
​​
Mr. K began his 40-year journey at St. Nicholas in 1976. His class has many traditions that make the 8th grade year at St. Nicholas very special. All of his students can tell you about: the Jeopardy theme song, the Calvary Charge Bugle, the field trips to the Steinbeck Museum and Alcatraz, The Kevin Kannengeiser Basketball Tournament, The Dinner Dance and Grad Party, and of course The Washington D.C. trip.
U.S. Rep. Anna Eshoo spoke the truth when she honored him on the floor of Congress in 2001. She said, "Mr. Speaker, we are indeed a better nation and a better people because of Kevin Kannengeiser and it is a privilege to honor my constituent for his very special leadership."
We agree with this sentiment and will take it one step further – for every student who was lucky enough to have him as a teacher, it has been a privilege to be in his classroom.
​

Thank you Mr. K!
​
To make the new "Kevin Kannengeiser Activity Center" worthy of his name, we have started a fund to make the following improvements:
​
A New Refinished and Repainted Gym Floor featuring Mr. K's signature in front of the home bench

A New Scoreboard with "The Kevin Kannengeiser Activity Center" Logo

State of the Art Sound System

Updates to the Stage and Backstage Area

Remodeled Restrooms with new sinks and air dryers for hands

Remodeled Entry Area

Filtered Water Station with Bottle Filler
Coming December 2017!