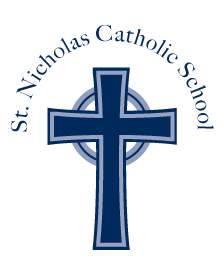 St. Nicholas Catholic School
Inspiring Student Excellence; Rooted in Catholic Tradition
OPEN HOUSE - TUESDAY, OCTOBER 24TH 9 AM - 11:30 AM - RSVP HERE
Kindergarten Admission
St. Nicholas kindergarten is a full-day program, held 8:00 am to 3:00 pm daily.
We offer a varied and active schedule to ensure our youngest students stay engaged while building their reading, writing and learning skills. We offer an innovative curriculum, including a guided reading program, tailored for children who are not yet reading to children who are reading at the second-grade level; basic computing and coding skills; and empathy learning to help children in understanding the needs and feelings of others.
​
Learn more about our Kindergarten Academic Program here!

To apply to the kindergarten program, please review the Application Process & Required Information using the link below.
We will confirm your submission immediately via e-mail.
​
​