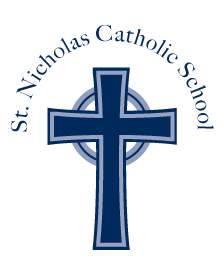 St. Nicholas Catholic School
Inspiring Student Excellence; Rooted in Catholic Tradition
OPEN HOUSE - TUESDAY, OCTOBER 24TH 9 AM - 11:30 AM - RSVP HERE
The Mary O'Shea Scholarship Fund
During her 35-year journey at St. Nicholas, Mrs. O'Shea, our beloved librarian and reading resource teacher, has worn many hats. Since 1982 and she has taught or co-taught in every grade at St. Nicholas School. Mrs. O'Shea has touched the lives of every child that has passed through our doors. She has coached 30 soccer teams, started the 3rd/4th grade Macbeth performance program, led the gardening club, taught hundreds of kids how to knit, greeted everyone with a smile as she ran the drive-through line, and inspired the lifetime love of reading in countless SN Celtics.
To honor her legacy, we have created the "Send a Note, Give a Gift" campaign.
Send A Note
Everyone in the St. Nicholas family is invited to send a note to Mrs. O'Shea that will be compiled into a keepsake book this summer.
Give A Gift
St. Nicholas School has established the Mary O'Shea Scholarship Fund, an endowed tribute that will provide financial aid in perpetuity to St. Nicholas students with demonstrated need.
We have created the fund with the goal of raising one million dollars because Mrs. O'Shea is worth that much and more! We hope you will join us in our pursuit to leave a lasting legacy that will change the lives of many deserving students each year forever. Please help us honor Mrs. O'Shea and give a gift!