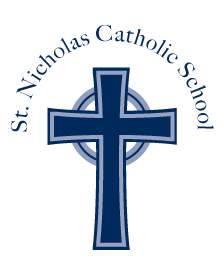 St. Nicholas Catholic School
Inspiring Student Excellence; Rooted in Catholic Tradition
OPEN HOUSE - TUESDAY, OCTOBER 24TH 9 AM - 11:30 AM - RSVP HERE
A Letter From Our Principal
Dear Parents,
St. Nicholas School is an environment in which our next generation develops their God given talents, preparing them for the challenge to serve and respond to our world's ever growing global needs. St. Nicholas School offers families an environment rich in distinguished academic programs, inspiring creativity while developing confidence in understanding who they are as person and who they want to become as a member of our society.
We seek to educate the whole child here at St. Nicholas ~ both the academic and the Christ-like, spiritual child. We steadfastly deliver strong academic programming while instilling values of empathy and inclusion through our Social Emotional Learning Program. This program guides and shapes students' empathetic concern for others, teaches them to make responsible decisions and allows them to build positive peer relationships. We unite around an annual theme ~ this year's "Practice Hospitality In Our Classroom, School and Our Community" are not merely words we say, but a culture we intentional develop in class, on the playground and in the community. As a result, our students feel secure and part of a supportive environment and enjoy the richest learning experience possible.
St. Nicholas accomplishes this mission by attracting extraordinary educators who are committed to their call to creating an environment that accelerates student learning through the use of data and individualize instruction in order to maximize student potential. St. Nicholas School is proven to be one of the top schools in Diocese of San Jose in student achievement scores and equally attaining the scores at the Los Altos public institutions.
We take advantage of our spectacular 17-acre campus that includes an outdoor classroom used for science and retreats, 8 outdoor basketball courts, 5 play structures, a regulation soccer and softball field, renovated multi-purpose gym combined with our 14 innovative learning classrooms offering our students the space they need to learn, grow and explore. In addition, one third of our student population is involved in our signature theater arts program which rivals most high school drama productions.
Finally, our strong partnership and shared mission with families is paramount to the success of our school. We respect that parents are the primary educators of their child. We work cohesively with our parents to create an environment built on trust and respect.
I invite you to spend some time on our campus, learn more about our mission and experience why we believe at St. Nicholas School our students have unimaginable possibilities.

​
With Much Appreciation,
Jan Popolizio