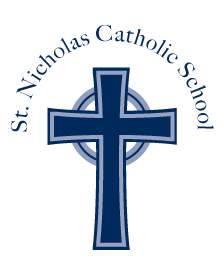 St. Nicholas Catholic School
Inspiring Student Excellence; Rooted in Catholic Tradition
A St. Nicholas Student Is...
Spiritual
whose stewardship contributes to classroom, school, parish, and the community at large nurturing compassionately and exhibiting sensitivity to the needs of others. A person who demonstrates Christ-like growth and knowledge of the Catholic faith, making moral decisions based on Gospel values.
A Leader
who engages in cooperative and interactive activities as a trustworthy and effective team member taking responsibility for his or her own actions and demonstrating positive social skills. An inclusive person who recognizes and uses his or her own unique talentsand respects the differences of others.
Academically Committed
who observes, experiments, discovers and reaches successful solutions to real world problems while demonstrating academic, social and emotional skills to become a life-long learner. A communicator demonstrating effective oral, written, and listening skills.