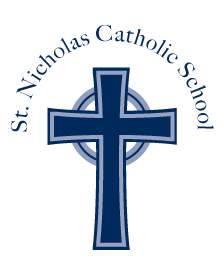 St. Nicholas Catholic School
Inspiring Student Excellence; Rooted in Catholic Tradition
Community Outreach
Service is a cornerstone of St. Nicholas School and all students participate in our community outreach program. The goal of the program is to increase awareness of needs locally and throughout the world by getting students involved in a variety of activities to further develop andlive out their faith through service.
Our Celtics participate in many outreach opportunities throughout the year for local agencies such as Sacred Heart Community Center to visiting Daughters of Charity and retirement communities.
"Our students show a true passion to reach out to their community. Helping the community is a part of who they are and we are blessed to have the opportunity to work with many local agencies and affect people in need who live within our county."
Monthly Outreach Collections
Each month two classes sponsor an outreach collection for items such as: coats, school supplies, pajamas, toys, diapers and toilet paper. The class is responsible for building awareness around the drive among our community and collecting all the items generously donated. The class then delivers the collected items to the agency and while they are there, the students also volunteer to sort food baskets in the food pantry and organize clothes in the clothes closet. Their trips are always very meaningful to the students, as they typically see a long line of clients who are in need, thus putting a very real face on those served by their wonderful endeavors.
Literature For Little Ones
Understanding and witnessing community service speaks volumes when it comes to the 8th grade class. Each year the 8th grade class leads our Literature for Little Ones program. Literature for Little Ones is a program where slightly used children's books are collected for students who attend schools lacking the funds for libraries and classroomenrichment.
The 8th grade class has distributed thousands of books to children ages 3-12 attending local schools. The students work all year to collect books and in the spring, they chose a school in need and deliver the books. They spend the day attending an assembly with the students and give them the opportunity to choose a book to take home. They also distribute books throughout the many classrooms and spend timereading to the students.
Fulfill A Need
In addition to the monthly outreach collections our students respond to others needs in our local community and around the world as we become aware of different situations. Through the students' compassion for people and their community, they showed great leadership and drive to pull many people together for the cause.