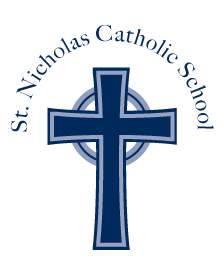 St. Nicholas Catholic School
Inspiring Student Excellence; Rooted in Catholic Tradition
Tuition & Fees
Tuition
There are two tuition designations: Catholic Discounted Tuition for active Catholics, and Full Tuition for non-Catholics. Your parish confirms your status as an active Catholic.
Families are eligible to receive the Catholic Discounted Tuition if

the student(s) is/are baptized and have received the Sacrament of First Holy Communion, or will receive this Sacrament before entering 3rd grade

The family is registered at a Catholic parish, regularly attend weekly Catholic Mass, and contribute to their parish giving program regularly as identified through envelopes or online giving

A 20% discount is applied beginning with the 3rd child.

A $3000 additional one-time fee per student of new families entering St. Nicholas School in 5th-8th grade.

A $3000 non-refundable deposit per student of new families entering St. Nicholas School in TK and Kindergarten, to be applied to the following academic year 2022-23.

Tuition Assistance is available upon demand. The average tuition assistance package per student in the 2020-21 academic year was $4,800. See below for more details.
​
Fees
*Enrollment fees are in addition to tuition.
​
​
Tuition Assistance
St. Nicholas School and the Diocese of San Jose have funds available that may be awarded based on demonstrated need. St. Nicholas School families may apply to the scholarship fund each spring through FACTS Management. The Pastor and Principal coordinate this program. Financial Aid is confidential and available to all students and families who need assistance. For more information please contact the St. Nicholas School Office via email or at (650) 941-4056.
​