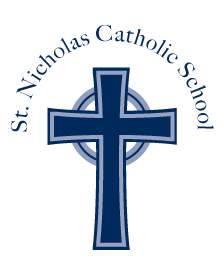 St. Nicholas Catholic School
Inspiring Student Excellence; Rooted in Catholic Tradition
OPEN HOUSE - TUESDAY, OCTOBER 24TH 9 AM - 11:30 AM - RSVP HERE
About St. Nicholas School
St. Nicholas School was founded in 1953, and we have maintained a thriving school community and culture while continuing to innovate in our facilities and curriculum.
We are unique in our small size, with only one class per grade and an 11:1 student to teacher ratio; our focus on building happy, confident young people as students progress from transitional kindergarten through 8th grade; and our warm community where "everyone knows your name."
Our graduates go on to the top high schools and universities, with a solid foundation in both academics and leadership. Many of our graduates have enrolled their own children in the school, and a number of our teachers are St. Nicholas graduates themselves.
We're proud of our progressive curriculum, Catholic values and beautiful campus. But most of all, we're proud of our faculty, teachers and students who make St. Nicholas such a special school.