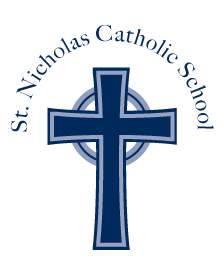 St. Nicholas Catholic School
Inspiring Student Excellence; Rooted in Catholic Tradition
Get Involved
There are many ways to be active in our community. You can spend time in your child's classroom assisting with group activities, driving on field trips or assist in planning classroom activities. There are many coaching opportunities available to lead an athletic team after school and you can also spend lunch with our students by volunteering for yard duty.
St. Nicholas School also relies on volunteers to help organize and implement school events and fundraisers. We encourage all families to be a part of the PTG (Parent Teacher Group) where you can volunteer to chair a committee, assist with a committee's efforts. The PTG holds monthly meetings where guest speakers are invited to speak on an array of topics. The PTG is a tremendous support to the school and is a great way to get involved.
Welcome Back Mass & BBQ
The first weekend after the beginning of School we host our annual Mass and BBQ - it's a great way time to see old friends and meet new families after summer.
​
Tingo
Our annual taco and bingo night kicks off the year and is the first key PTG fundraiser of the year. Volunteers help with promotion and event coordination.
​
Book Fair
The Scholastic Book Fair is an important event that not only provides new books and resources to our teachers, classrooms and library, but helps raise funds for our school. Volunteers help with set up, sales, wish lists and teacher's lunch.
​
Each March St. Nicholas School holds its annual Dinner Dance and Auction! The auction gives our parents a chance to dress up and have some fun while raising money for our kids!
​
Father Daughter Dance
One of our favorite traditions, the Father Daughter Dance assures that your daughter
​
Celtic Gear Store
Celtic Gear: clothing, hats, gym bags and more to show our Celtic pride. Volunteers help with promotion, sales, ordering and distribution of Celtics logo wear.
​
Hospitality
Hospitality volunteers help coordinate refreshments for PTG supported events throughout the year, including the back-to-school BBQ, first day of school coffee, back to school night, State of the School, and more.
Library
Library volunteers help children check out and return books and help the school librarian with reshelving books and other tasks. Library volunteers attend a short training seminar.
New Families
New Families committee works during the summer to set up buddy families for all new incoming school families, coordinates a reception in the Fall and ongoing communication with new families.
PTG Leadership
Volunteers help shape the future of PTG by taking on leadership positions including Vice President, Secretary, Treasurer and committee chairs. Contact the PTG President for more information on open positions.
School Toolboxes
Toolbox volunteers help coordinate teacher supply lists, manage orders, organize and distribute school supplies to classrooms at the beginning of the school year.
SCRIP
SCRIP volunteers help sell after school on Mondays, Wednesdays and Fridays and fulfill online orders. This committee also helps to promote and education school families about our SCRIP program.
SNUUS (Used Uniform Sales)
SNUUS volunteers help collect, organize, promote and manage sales of gently used uniforms to the school community a couple times per year.
​