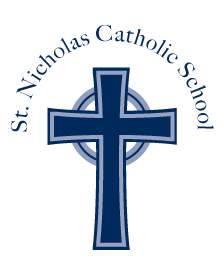 St. Nicholas Catholic School
Inspiring Student Excellence; Rooted in Catholic Tradition
OPEN HOUSE - TUESDAY, OCTOBER 24TH 9 AM - 11:30 AM - RSVP HERE
Support St. Nicholas School
St. Nicholas School has much to be proud of. Our caring faculty and low student-to-teacher ratio ensure quality education for all. Our comprehensive academic program and diverse extracurricular activities challenge curious learners and nurtures the next generation. But none of this is possible without the generosity of our parents, alumni and community. Below are the different funds you can support with a tax-deductible gift to show your support for the mission and work of St. Nicholas School.
Educational Enrichment Programs
Did you know that St. Nicholas tuition only covers 80% of the cost of educating each student?
By giving to this program, you are supporting the additional costs associated with our Enrichment and Technology Programs. This includes our low teacher-student ratio, arts, PE, 1:1 iPads, and data-driven personalized instruction.
The Endowment Fund
This fund is a gift that gives forever. Our Endowment Fund is currently valued at over $1million. The earnings from this fund are applied toward the Educational Enrichment Programs to ensure the future growth of St. Nicholas School and to help keep our tuition affordable.
Mary O'Shea Scholarship Fund
This fund supports the students who otherwise would be unable to attend St. Nicholas School due to financial restraints. When you support this fund, you are giving the gift of Catholic education.
St. Nicholas School relies on donations from our community and we are extremely grateful for your support of our mission.