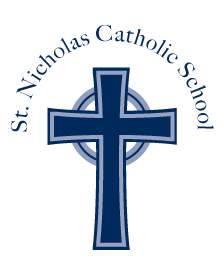 St. Nicholas Catholic School
Inspiring Student Excellence; Rooted in Catholic Tradition
Junior High School Academics at St. Nicholas School
The St. Nicholas School Junior High program is designed to
Foster an atmosphere where our adolescents can fully realize how much God loves them and to develop their moral judgement in pursuit of aspiring to become confident and compassionate individuals who have a true sense of self-worth.
Inspire a sense of curiosity for learning and provide opportunities to develop their critical thinking skills towards individual development of their God-given gifts and leaderships skills.
Challenge their abilities to face obstacles with creativity, confidence, and perseverance.
In the backdrop of this program lies a rigorous academic experience for our students with proven results. Over 80% of students score in the top quartile on our nationally standardized tests. St. Nicholas School graduates have the opportunity to choose from the many Bay area college prep high school environments with nearly 100% placement into their first choice schools.
​
To learn about our curricula, please click on the topics below or contact us!
Curriculum for Junior High School
Language Arts
---
At St. Nicholas school we offer an innovative, powerful Common Core aligned literacy program designed to meet each child's specific needs. Transforming the way we instruct students in language arts began with the implementation Lucy Calkins Units of Study for Reading and Writing in grades K-8. Our educator's training began at Teachers College, Columbia University where the curriculum was first imagined. Each week teachers meet to discuss student learning, examine growth and share best practices for instruction. These collaborative meetings have been the key to St. Nicholas School's success-raising the quality of teaching resulting in high level student output, as many schools come to watch and learn from our comprehensive model. In Reader's Workshop students explore critically acclaimed novels, contemporary fiction and non-fiction writing. Our educators explicitly teach skills so they can compare/contrast, analyze themes, understand story conflict and identify voice and plotlines. Our cross curricular approach involves project based learning where students can respond to them social issues and become conscientious citizens both locally and globally. Students delve into "close reading" approaches employing critical reading skills allowing a deeper understanding of complex works. Great works of literature present the author's views of human nature; ensuring our students can perceive and interpret these motifs are critical to better understanding the world around them. Addressing the growing need of non-fiction and contemporary literature, St Nicholas has invested in revamping all classroom libraries.
---
Writers' Workshop
---
The Writers' Workshop format focuses on a deep understanding of the critical areas of argumentative, informational and narrative writing preparing our students for the rigors of their high school environments. The model utilizes direct instruction, guided practice and independent implementation allowing teachers to deliver a short focused lesson on a specific writing skill followed by individual application and post writing review, advancing the student competency. The classes are structured with ample time available to provide clear goal-setting and most importantly; collaborative constructive feedback. Students are guided in not only (clean) single content writing but also taught to develop and refine strategies for writing across curriculum integrating math; science literature and religion. Students are encouraged to develop higher level critical skills (synthesizing, analyzing and critiquing) while fostering effective writing strategies promoting purposeful, lifelong literacy. Our program is designed to help students meet and exceed rigorous global standards while creating strong writers who will have a voice in the world.
---
Math
---
St. Nicholas prepares Junior High Students for the best high school math placement possible by carefully aligning our curricula based on clear direction set by the high schools. With unanimous approval, the Math Deans from the bay area college prep high schools state that a solid foundation in Algebra is critical for success in high school — from Geometry through AP Calculus. At St. Nicholas School we support this philosophy and ensure our students are well positioned in this requirement (at a minimum) before graduation. Our successful math program has students advancing into Geometry, Geometry Honors, Algebra II, Algebra II/Trig Honors, and even Pre-Calculus as high school freshmen. The math curriculum exceeds the common core standards and parallels what Catholic high schools students will encounter. Activities are structured to allow students to explore, explain, extend, and evaluate their progress. Our math teachers use group problem-solving to stimulate students to apply their mathematical thinking skills and encourage students to work cooperatively with others. Our teachers use real-world problems whenever possible, asking students to construct meaning about the world around us and apply their knowledge. A critical component in the math program at St. Nicholas School is the use of ALEKs: Assessment and LEarning in Knowledge Spaces. ALEKS allows forward instruction on subsequent topics based on real-time assessments and ensures the student is fully prepared and ready to learn. A student's potential accelerated trajectory in math entirely depends on the strength of base prerequisite knowledge; a depth of knowledge of the mathematical concepts is critical. Placement decisions at St. Nicholas School are based on clear evidentiary data recognizing student's proficiency in 6th-8th early ensuring students are met at the appropriate level for growth. Our goal is to move students effectively forward in their math journey without sacrificing concept soundness for speed of advancement. St. Nicholas School junior high program offers an accelerated paced Geometry, Algebra and Pre-Algebra and Grade-level foundation curriculum.
---
6th Grade Earth Science (Geology, Hydrology, and Ecology)
---
Our 6th graders explore the Scientific Method and refine laboratory skills while learning about Earth Science - the overarching exploration into how the Earth was formed, mapping the Earth and discovering how and why it sometimes trembles and shakes. Our students use the USGS website to map earthquake activity throughout the year; tracing the active patterns and explore the real-time impacts. Students study Hydrology and the earth's bodies of water understanding how these important bodies affect our lives. Science Camp is one of the highlights of the year; bringing all disciplines together for experiential learning!
---
Technology
---
St. Nicholas's Junior High students are blessed with an immersive, experiential technology program that applies learned concepts and skills from elementary grades in an exciting and engaging manner. Our junior high school students use our innovative technology lab to collaborate, communicate, and to create with peers and teachers – using Google Web Designer, Sketch-Up 3D modelling, various channels of media content creation, YouTube video embedding, and Adobe Photoshop editing are just to name a few of the tools used within cross curricular junior high school projects. Jr. High Celtics receive important and timely Digital Citizenship instruction; allowing them to think critically, behave safety, and participate responsibility within the digital world.
---
Religion
---
Religion continues to play a formative role for our Junior High students with great emphasis around morality, social justice, service and spirituality. It is critical as our young Celtics grow and prepare for high school that these important Catholic concepts are deeply understood ~ equipping our students to identify moral dilemmas, spiritually reflect and resolve these issues and foster their ongoing Catholic faith journey. At St. Nicholas, great focus is placed on actively living Catholic values, scripture, sacraments and liturgy, moral formation and service. Special emphasis is given to Sacraments of both Reconciliation and Con rmation - important achievements within our Catholic faith. Purposeful re ection is interwoven throughout our day at St. Nicholas with many opportunities to pause and pray. Our Active Worship is demonstrated beyond the schoolyard and in the community as well with students leading 13 Service Drives. Service continues with weekly visits to the Morgan Center; allowing our children to service young people with autism and developmental needs. St. Nicholas's Religious instruction is a cornerstone of our foundational mission for our students
---
Physical Education
---
The Physical Education program for middle schoolers builds on the foundation of the program in TK-5. Students demonstrate proficient motor and movement skills, can articulate the steps involved in the skills and may be exposed to new sports and opportunities as Cricket, Gaelic Football, Track and Field and Self Defense. Students are able to identify and explain the benefits of vigorous activity and may begin to design a personal fitness plan.
---
Choir
---
St. Nicholas has a robust choir driven by our music teacher who is dedicated offer an enriched musical experience. The students in grades 3-8th can join the choir at the beginning of the year. Not only is the choir learning liturgical music that they sing in Mass each month, but students have the opportunity to work on contemporary musical pieces that are showcased at our Annual Christmas Program and our Spring Choral Festival.
---
7th Grade Life Science (Biology, Genetics, and Anatomy)
---
Our growing 7th graders study Life Science / Biology further utilizing the Scientific Methods of investigation learned in elementary and sixth grades. We explore the basic units of life from the smallest cells to complex Human Body Systems and cover the study of Genetics, Heredity, Evolution and Human Reproduction. In our project based learning environment students will be focusing on each of the body systems and have an exciting, hands-on field trip related to Genetics to extend their learning outside of the classroom.
---
8th Grade Physical Science (Chemistry and Physics)
---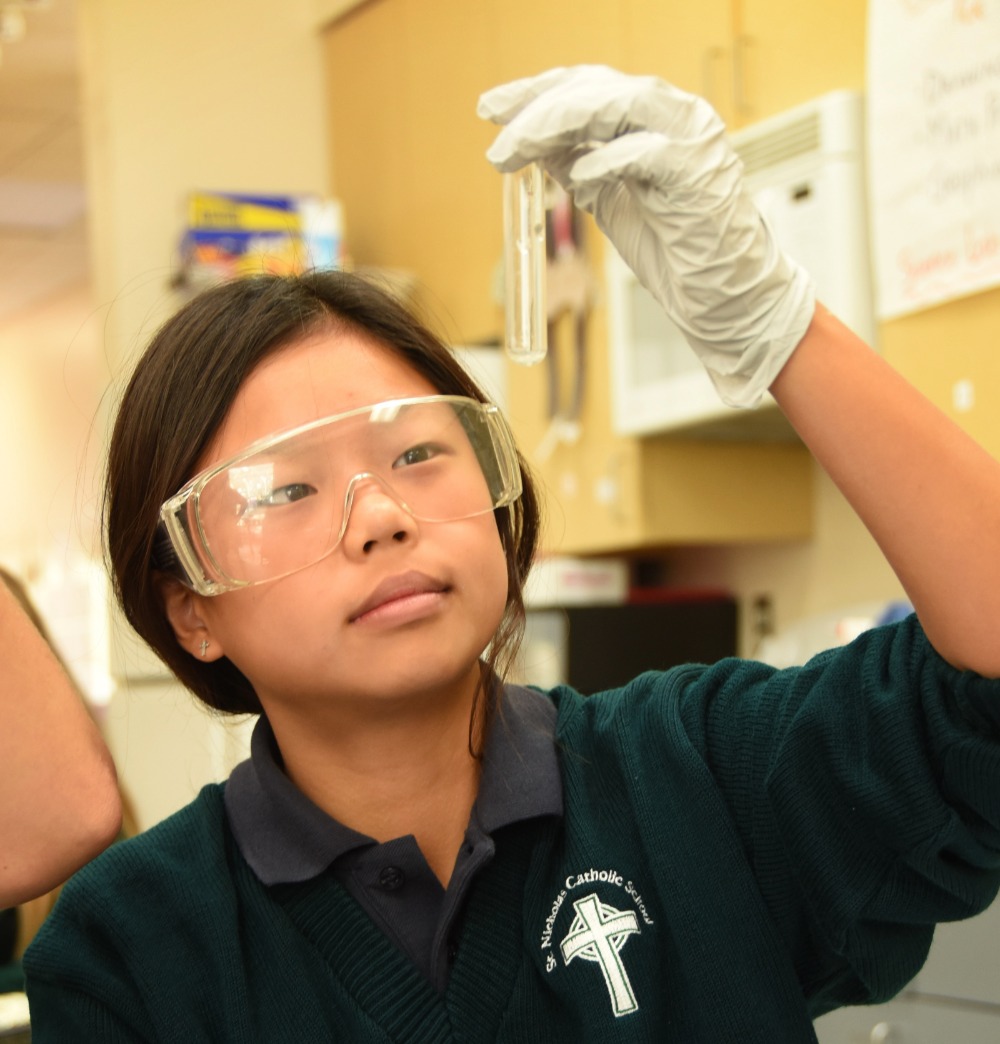 8th graders use their laboratory and math skills extensively investigating more complex concepts of chemistry and physics with a focus on engineering and design. What is known as our Challenge Project, our project based learning environment requires our students to utilize chemistry concepts in a cross curricular winter project, blending experimental design and chemistry, market and financial research, producing a digital presentation as they bring their entrepreneurial, chemistry borne real creation to market. Students work in groups with different leadership roles involved in everything from product conception to production while creating a marketing and communication strategy for the final presentation during a school-wide taste testing.
---
Science and Engineering Overview
---
Our Junior High STEM-based curriculum uses the science and engineering practice model of inquiry and is aligned to the Next Generation Science Standards (NGSS). Students are engaged in highly hand-on experiences with investigative projects, discussions to better understand concepts and problem solving of real world problems. Students work on improving note taking skills, textbook comprehension and honing essential lab skills for high school and beyond. Many of our students move into honors science in their high schools due to the depth of knowledge they acquire at St.Nicholas School.
---
Social Studies
---
Our students not only read and write about history, they fully recognize the importance of historical events and determine their significance in society today. Our project based learning environment adheres to California State Standards and covers a wide rage of history, beginning with the development of early human cultures to the formation of our democracy and the impact of our early founders' actions on today's society. The culmination of these studies is evident in our trip to Washington, DC where students witness, first hand, how American history has shaped the way we live.
---
Foreign Language
---
St. Nicholas Celtics receive immersive Spanish instruction beginning in 6th grade; bringing not only cultural and core instruction but a conversational approach to the students. Students become proficient in reading, speaking, listening and writing using standard curriculum and technological supports, enlivening the experience; increasing the fluency and resulting in future success.
---
Junior High Electives
---
Twice a month, students in grades 6-8th spend a hour in their chosen enrichment elective. This experience builds community amongst the junior high and allows them to delve deeper into areas that might not be offered in the conventional curriculum. Examples of electives offered are Photojournalism, Yoga, Sustainable Agriculture, Financial Literacy, Coding, Logic Games and and Art Sculptures.

---
---