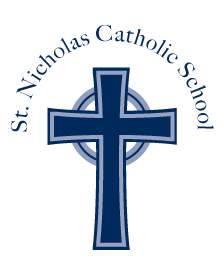 St. Nicholas Catholic School
Inspiring Student Excellence; Rooted in Catholic Tradition
OPEN HOUSE - TUESDAY, OCTOBER 24TH 9 AM - 11:30 AM - RSVP HERE
Junior High School Academics at St. Nicholas School
The St. Nicholas School Junior High program is designed to
Foster an atmosphere where our adolescents can fully realize how much God loves them and to develop their moral judgement in pursuit of aspiring to become confident and compassionate individuals who have a true sense of self-worth.
Inspire a sense of curiosity for learning and provide opportunities to develop their critical thinking skills towards individual development of their God-given gifts and leaderships skills.
Challenge their abilities to face obstacles with creativity, confidence, and perseverance.
In the backdrop of this program lies a rigorous academic experience for our students with proven results. Over 80% of students score in the top quartile on our nationally standardized tests. St. Nicholas School graduates have the opportunity to choose from the many Bay area college prep high school environments with nearly 100% placement into their first choice schools.
​
To learn about our curricula, please click on the topics below or contact us!