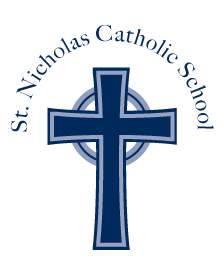 St. Nicholas Catholic School
Inspiring Student Excellence; Rooted in Catholic Tradition
OPEN HOUSE - TUESDAY, OCTOBER 24TH 9 AM - 11:30 AM - RSVP HERE
Social Events
Back-To-School Picnic
All families are invited to attend. This is a great opportunity to meet new families and faculty. Many PTG (Parent Teacher Group) committees set up informational booths for parents to sign up to volunteer, SNUUS (St. Nicholas Used Uniform Sales) has uniforms for sale and you can purchase SCRIP too. Overall, it is a great way to kick off the beginning of theschool year.
Kindergarten Lemonade Social
Hosted by the Kindergarten teacher for all incoming Kindergarten families. This is a great opportunity for parents and students to meet and get to know each other before the first day of school.
Family Masses
Once a month a class will host a family Mass held in Meade Hall (gym) or in the quad. Mass begins at 8:30 a.m. on the announced date. All school families are invited and encouraged to attend.
Coffee Socials
At the beginning of each year, the classroom parent organizes a coffee social for parents in their class after drop off in the first week of school. Parents get to know each other or re-connect after the summer break and sign up to volunteer for classroom events andactivities.
The auction is held in the spring at a local venue. There are probably easier ways to raise money, but the Auction is about more than fundraising: it's also a way we strengthen our community by working side by side towards this important goal and it is a wonderfulnight of friends and fun.
The purpose of the auction is to:
SUPPORT our students by raising money to support programs and services.

STRENGTHEN our parish school and relationships by sharing in a process of planning and leadership.

BUILD our community by gathering for an evening of friendship and fun.
Through the Auction there are many theme parties offered. Many families use this as an opportunity to fill their social calendars with fun events and parties to attend throughout the year with fellow Celtic families.
​
Father -Daughter Dance
The Father-Daughter Dance is a favorite tradition at St. Nicholas School! Held at a local venue, the Father-Daughter Dance includes dinner, dancing for girls and their fathers, a raffle, a photo keepsake of the girls and their dads, and a special dance for 8th grade girls and their fathers!